UCYFL: August 5th, 2014 Meeting Minutes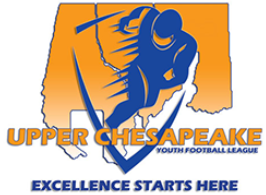 Upper Chesapeake Youth Football League
Aug 5th, 2014
Meeting Minutes

Call to Order @ 8:25pm 
Programs in Attendance: Aberdeen, Bel Air, Cecil County, Cockeysville, Conowingo, Edgewood, Emmorton, Fallston, Havre De Grace, Jarrettsville, Joppatowne, North Harford, and Towson (13 out of 17 total)
Executive Board Members in Attendance: Greg Beaty (President), Vince Hagley (VP Rules), Ian Mitchell (VP Scheduling), Tina Preston (Treasurer), Matt McMichael (Blue Div. Commish) and Tom Coard (White Div. Commish)

President's Report:
Schedules were emailed out with divisions and teams lay out as well as home and away games; times still TBD per program and should work with VP Scheduling.
Ref fees are still $60 per Ref, per game; Invoices can/will be given out upon request.
All programs are to email Greg with most up-to-date contact info (email and phone numbers).
Bob Elliott has requested that his presence at each league meeting not be required due to his position only pertains to strictly communications amongst the league and maintaining the website; discussions to be had amongst the Executive Board on this subject.
VP of Rules Report: 
Official rule book still being looked over and cleaned up from last year; it will be uploaded once complete.
New "Weight" Rule for 2014 – 12U will now be unlimited weight just like 14U 
**Reminder – even though the weights are unlimited, rosters, pads, and equipment are still  to be checked prior to the start of each game.
New "Kickoff" Rule for 2014 – Kickoffs now require a minimum of 4 players on each side of the kicker, no more than 5 yards behind the ball; only the kicker can be more than 5 yards behind the ball.
Points of emphasis from Refs for 2014 based on High School Federation rules:     **Targeting" defined as any player who is seen on the field making deliberates hits to another player's helmet in a malicious manner; hit can be made with more than just their helmet, but also shoulder, arm, etc. (not just talking about helmet-to-helmet contact).
This is subject to a single game ejection.  
**"Defenseless Player" which is defined as any player who takes a hit where the contact is unseen and unavoidable such as a receiver being hit downfield where the ball falls incomplete and untouched, completely out of reach or a defender who gets deliberately struck with the crown of the ball carriers helmet instead of with their shoulder or trying to avoid contact entirely.
This is subject to a 15 yard penalty.
The "Tackle-to-Tackle" designation was defined as interior COVERED linemen only, that being Centers, Guards, and Tackles on Offense and those linemen who play on the LOS and between the Tackles on Defense; they cannot be lined up in a position deemed as an eligible receiver. 

Shown below are examples of how the "Tackle-to-Tackle" designation is going to be officiated in 2014:

Treasurer's Report:
League fees are due from each program; bills will be sent out to each program chair soon and needed to be returned as soon as possible. Fees are still $55 per team for each program.
VP of Scheduling's Report: 
Discussions about how the divisional structure and number of teams impact and relate to the schedule.                                                                                                              
            1). 
Within the 12U Gold Division, the Bye week will now be eliminated with the loss of 
                 its Perry Hall team; this will cause the initial schedule lay out to be re-worked.
            2). The 8U Gold division has been eliminated and the 3 teams will be moved up to the
                 White Division; due to a new prevision voted in last month's meeting, any division 
                 with less than 4 teams will be eliminated and those teams will be moved up to the 
                 next division. 
Clinic schedules have already been completed and sent out to each program chair.
The final schedule is set to be completed sometime next week pending all the times match up and there are no changes needed.  
            1).  
If a change is needed, each corresponding program is to be in contact with each other, 
                  come up with an agreeable solution and email the VP of Scheduling with such solution.
The regular season is set to finish the weekend of 10/24; Playoff format is still not decided and should be discussed in future monthly meetings.
Blue/White/Gold Division Report: Nothing to report
Old/New Business:
Discussions about the league coaches meeting and potential future plans.
A recommendation was made to have the league coaches meeting earlier in the offseason and not wait so close to August 1st to have it as well as potentially having multiple venues, one in Harford County and another in Baltimore; this would help accommodate coaches in their travels.
Recommendations also included having individual meetings for each program with a Ref/Official present to go over any/all questions on the rules (new or old) and expectations during games throughout the season; this was in lieu of having a league wide meeting this year with so little time before regular season games start.
The "Tackle-to-Tackle" stickers are still in the process of being ordered; All Pro Sports to be contacted about making them in time for the season. They will be distributed to each program once they are available.

Meeting Adjourned @ 9:20pm